ARK: Survival Evolved erhält auf der XBox einen lokalen Multiplayer, ausserdem gibt es neue Dinos und ein nettes Feature.
Vielleicht gerade passend zum Valentinstag kann man nun im Splitscreen auf der XBox One ARK spielen und gemeinsam auf der Couch die Insel erkunden und Dinos zähmen.
Nach Aussage der Entwickler aber nur für eine bestimmte Zeitspanne.
Ausserdem gibt es 3 neue Arten, die mit dem Update hinzu gefügt wurden:
Gallimimus (with Three-Seater Passenger Saddle): While the Gallimimus in real life might have been a large, chicken-like omnivore belonging to the clade Ornithomimosauria (similar to today's ostrich family and closely related to raptors and modern birds), in ARK: Survival Evolved it's an herbivore with no natural means to defend itself except for running away. Luckily for the Gallimimus, it may very well be the fastest dinosaur on ARK, and is capable of ferrying up to three Survivors in a specially-designed Saddle!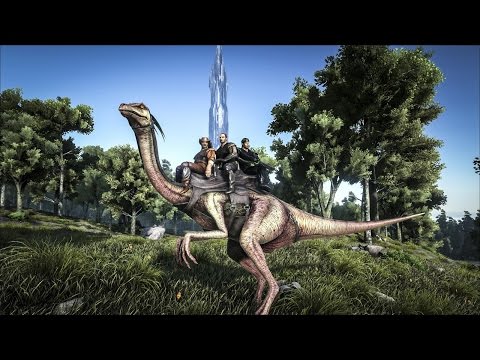 Dimetrodon: Known as everyone's favorite adaptable carnivore, the Dimetrodon offers players shade during excessive heat and shelter from extreme cold by way of its massive insulating sail running down its back. It is reasonably friendly to Survivors and its favorite place to roam is the swamplands plentiful with small prey.
Dung Beetle: The Dung Beetle is a wondrous organic biofactory that eats excrement and other useless waste and then metabolizes it to produce burnable oil that can power generators and fertilize crops. It is the perfect pet for cleaning up around the tribe's dirty living quarters!
Wem das nicht reicht: Es wurden "SWAT"-Style Rüstungen hinzugefügt, Waffen, Strukturen, Tiefsee-Lootboxen und:
BIER (Beer Barrel: These craftable Beer kegs can make tasty brews, with various status enhancing effects, however the subsequent 'hangover' effects are not so pleasant!)